St. Jean Carbon (V.SJL) (TORVF) has, along with many of the other graphite juniors, been bouncing along the bottom of a stagnate market for years. Trading between $0.03 and $0.07 on light volume.
Yesterday the company had trading in its shares halted and announced that it had signed a multi year, multi ton off take agreement with Panasonic.
Here's what Paul Oglvie, CEO said in the press release announcing the deal :
"After more than two years of working on material specifications, sampling and re working, we could not be more pleased than to finally ship finished material to our customer. The order is part of an offtake agreement to supply multiple tonnes of anode material monthly for a number of years. We are hopeful that the electric car business continues to grow at this rate; as that will continue to push our demand and create more and more opportunities for us. We consider today as our greatest accomplishment; to be recognized and awarded with an order to supply one of the world's best technology companies, is a tremendous accomplishment for the team."
And here's what the market said: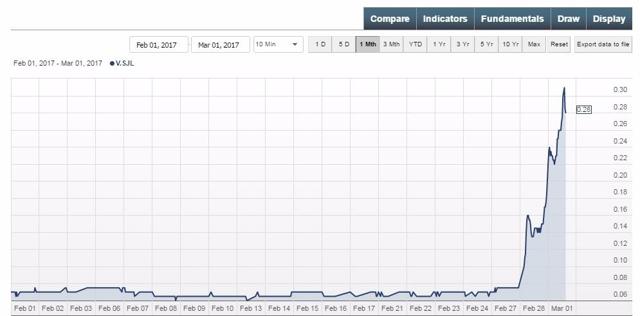 A few weeks ago, over at The Financial Post, I wrote about the effect of an off take agreement – in that case on a lithium explorer and speculated on what might happen to Canada Carbon (V.CCB) (BRUZF) were it to secure an off take. Or you could look at a company like Alabama Graphite (V.CSPG)(CSPGF) which is well on the way to becoming a preferred graphite supplier for the US Department of Defence and its contractors.
It is too late to catch the rocket St. John Carbon has become; but there are other graphite companies which are poised to supply world class graphite to huge markets.